Warm Audio BUS-COMP 2-Channel VCA Bus Compressor
Product #65741 | SKU BUS-COMP
Usually ships in 3 - 5 working days
(no ratings yet)
Thanks for your rating!
---
---
Warm Audio BUS-COMP 2-Channel VCA Bus Compressor
Product #65741 | SKU BUS-COMP
Usually ships in 3 - 5 working days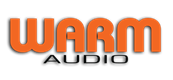 ---
---
Product Features
Classic VCA Compressor Design.
Add Glue & Control Dynamics.
Switchable CineMag Transformers.
Sonic Transparency or Colourful Vibe.
Selectable High-Pass Filter.
Customer Reviews
(no ratings yet)
Thanks for your rating!
Email me when stock arrives
Product Details
Product: #65741
SKU: BUS-COMP
---
Overview
Designed for recording and mixing stereo tracks, the Warm Audio BUS-COMP 2-Channel VCA Bus Compressor 's take on a classic VCA bus compressor, one made famous by companies such as Solid State Logic. This is a clean, stereo compressor, one quite suited to handling the dynamics of stereo instruments. It's also handy for stereo-buss work, imparting the sonic glue VCA compressors are known for.
The BUS-COMP takes a classic design and adds some nifty improvements, such as the ability to switch CineMag transformers in and out of the signal path at the press of a button. With this feature, you can opt for sonic transparency or colourful vibe with the touch of your finger.
The BUS-COMP also offers a selectable high-pass filter, a sidechain input, a useful bypass/engage switch for making comparisons, and a versatile I/O path. Indeed, you'll find XLR and 1/4" TRS terminations used in both the inputs and outputs.
Key Features:
All analogue, 2-channel stereo VCA compressor.
Based on legendary VCA compressor technology.
Selectable discrete opamp stage with CineMag USA transformers.
External sidechain source select.
Selectable Hi-pass Filter at 30, 60, 105, 125, and 185 Hz.
Compressor engage switch for easy comparisons.
Performs well on stereo mixes, drum mixes, drum overheads, acoustic guitars, keyboards, piano, orchestral instruments, voice-overs, and endless other sources.
Can be used on mono as well as stereo sources.
Uses THAT 2180 VCA IC.
Provides both XLR and 1/4" TRS connectivity.
Specifications
Connections
1 x XLR Sidechain Input
2 x XLR Inputs
2 x 1/4" TRS Inputs
2 x XLR Outputs
2 x 1/4" TRS Outputs
Compressor Character
VCA
VCA
THAT 2180 ICs
Controls
Threshold Knob
Attack Knob
Ratio Knob
Release Knob
High-Pass Filter Knob
Make-Up Gain Knob
Compressor/Bypass Switch
External Sidechain Switch
Transformer Engage Switch
High-Pass Filter
At 30, 60, 105, 125, and 185 Hz
Noise
< -90 dBu
Headroom
> +29 dBu (20 Hz to 20 kHz)
Dynamic Range
> 120 dB
Frequency Response
18 Hz to 22 kHz
THD + N
< 0.05% (20 Hz to 20 kHz, +20 dBu Input)
Impedance
Input: 10 Kilohms
Output: 50 Ohms
Dimensions
Not Specified by Manufacturer
Weight
Not Specified by Manufacturer