Manfrotto 1051BAC Air Cushioned Compact Stand
Shipping & Availability
Click & Collect Availability
Wellington
Out of stock.

Pickup in

1 - 2 working days
---
Buy Together & Save!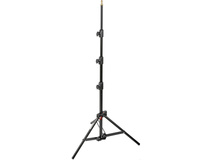 Manfrotto 1051BAC Air Cushioned Compact Stand
---
Related Products
---
Overview
Lightweight stackable stand with 3 risers - max height 211cm
Description
The Manfrotto 1051BAC - Air Cushioned Compact Stand is the made of aluminum and is a lightweight stand. With a patented Quick Stack System (QSS), ease of transport is optimized. Connecting the stands together saves a lot of room while storing them in the studio or in a location case.
Product Highlights
4 Sections, 3 Risers
"Stackable" When Closed
Double Threaded Spigot
Air cushioned
Lightweight
Specifications
Maximum height 211cm
Minimum height 75cm
Folds down to 67cm
Load capacity: 4kg
Weighs 1.0kg
Reviews
(based on

1

rating

)
Own or use this product?
Give it a quick rating:
Thanks for your rating!
Share your thoughts with other customers:
Write a review
Details
Product:

Manfrotto 1051BAC Air Cushioned Compact Stand

Manufacturer:

Manfrotto

Model:

1051BAC

SKU:

1051BAC

RM Product #:

1286