Manfrotto 1052BAC Compact Stand
In stock
Ships in 1 - 2 working days
In stock
Ships in 1 - 2 working days
---
this item may be nonreturnable
---
Shipping & Availability
Click & Collect Availability
Wellington
Out of stock.

Pickup in

2 - 3 working days
---
Buy Together & Save!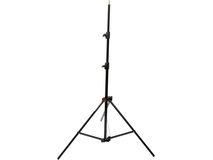 Manfrotto 1052BAC Compact Stand
In stock
Ships in 1 - 2 working days
---
Related Products
---
Overview
Lightweight stackable stand with 2 risers - max height 237cm
Description
The Manfrotto 1052BAC Compact Stand rises to a maximum height of 2.3 m, and is air cushioned. Formerly known as a "Stacker", this stand now has what is called the QSS - Quick Stand System. When folded, two or more of these stands may connected to each other to ease storage or transport.
Air cushioning protects fingers and mounted equipment. If the stand sections are not sufficiently tightened, mounted equipment eases down to minimum height instead of slamming down suddenly. This package includes a top baby (5/8") spigot is topped with a 3/8" thread, that thread is topped by a removable 1/4-20" thread.
Product Highlights
Quick Stack System (QSS)
3 Sections, 2 Risers
Versatile top spigot
Lightweight
Air cushioned
Specifications
Maximum footprint diameter 109cm
Maximum height 237cm
Minimum height 101cm
Folds down to 86cm
Load capacity 5.0kg
Weighs 1.2kg
Reviews
(no ratings yet)
Own or use this product?
Give it a quick rating:
Thanks for your rating!
Share your thoughts with other customers:
Write a review
Details
Product:

Manfrotto 1052BAC Compact Stand

Manufacturer:

Manfrotto

Model:

1052BAC

SKU:

1052BAC

RM Product #:

1285