RME ADI 648

Product #3178
SKU ADI648


(no ratings yet)

Thanks for your rating!
Usually ships in 5 - 10 working days
---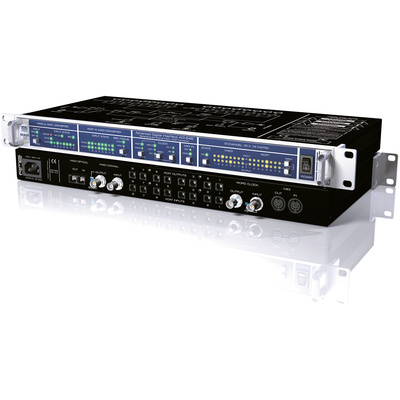 ---
RME ADI 648
Product #3178 | SKU ADI648
|

(no ratings yet)

Thanks for your rating!
Usually ships in 5 - 10 working days
---
64 channel MADI/ADAT format converter for win/mac (24bit/192kHz)
---
Email me when stock arrives
The ADI-648 is a sixty-four channel format converter from MADI to ADAT and vice versa. MADI handles sixty-four channels of 24-bit audio at sampling frequencies up to 48kHz and thirty-two channels up to 96kHz. All channels are transferred across a single cable, using either a coaxial (BNC) or optical network cable. The ADAT channels are provided via eight TosLink optical inputs and outputs, respectively.
Amongst other applications, the unit can serve as an MADI front-end for RME's Hammerfall and Hammerfall DSP series. An easy-configurable eight-channel 16x16 Matrix Router can assign any of the outputs, which are divided into eight-channel blocks, to any eight-channel input block, both on the ADAT and the MADI side. In addition to the routing within the MADI/ADAT conversion, the unit also performs splitting and routing within the same format.
When the single-space rack-mount unit is serving as a format converter, cable lengths of more than 100 meters can be achieved. The ADI-642 accepts both fifty-six and sixty-four channel standards as well as 96k frame at its input and can be set to generate both these formats at its output. This way the ADI-648 can serve as an interface between otherwise incompatible MADI devices.
Features:
Sixty-four channel MADI/ADAT format converter
MADI redistributor, patchbay and router
Extensive status displays give information about Lock and Sync states and the physical quality of the incoming signal
A fully automatic input selection between optical and coaxial input offers a useful redundancy mode for critical applications
Supplies word clock in Single and Double Speed, distributes Double Wire 96kHz signals into the MADI data stream, is also capable of double MADI rate (96k Frame) or per Sample Split (S/MUX) to the ADAT ports
SyncAlign and SyncCheck technologies ensure perfect synchronization and clear detection of errors
Multiple units can be stacked and operated sample-aligned, using word clock.
All settings are stored when the unit is switched off
Sixteen MIDI channels can be transferred across MADI even with 64 audio channels
The device can be fully remote controlled and configured via MIDI and all status displays can be queried through MIDI
Specifications:
Connectivity:
1 x MADI I/O (optical and coaxial)
8 x ADAT I/O (optical)
1 x MIDI I/O
Word Clock I/O
RME Remote
ADC: Not applicable
DAC: Not applicable
Sample Rates: Internal: 32, 44.1, 48, 88.2 and 96kHz
External: Accepts between 27kHz and 112kHz depending on clock source master
Analog Inputs: No
Analog Outputs: No
Digital Input: 8 x ADAT TosLink optical
1 x MADI Optical via FDDI duplex SC connector
1 x BNC MADI
Digital Output: 8 x ADAT TosLink optical
1 x MADI Optical via FDDI duplex SC connector
1 x BNC MADI
Word Clock 1 x BNC input
1 x BNC output
Dynamic Range: Not applicable
Frequency Response: Not applicable
THD + N: Not applicable
Dimensions: (WxDxH) 19" x 8" x 1 3/4"
Weight: 4.4 lbs
Specialties: Accepts 56 and 64-channel mode and 96k frame
Links:
Reviews
(no ratings yet)
Own or use this product?
Give it a quick rating:
Thanks for your rating!
Share your thoughts with other customers:
Write a review