Redrock Micro Mattebox (Standard bundle)

Product #134
SKU 8-003-0042


(no ratings yet)

Thanks for your rating!
Usually ships in 2 - 3 weeks
---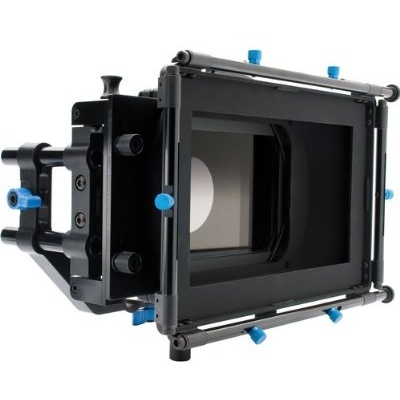 ---
Redrock Micro Mattebox (Standard bundle)
Product #134 | SKU 8-003-0042
|

(no ratings yet)

Thanks for your rating!
Usually ships in 2 - 3 weeks
---
The professional modular production mattebox for HD and DSLR cameras
---
Email me when stock arrives
The microMatteBox standard bundles are a great way to control flare and help control lighting when shooting. The Redrock microMattebox is the first cinema-grade matte box designed for the budgets of indie filmmakers, owner/operators, film students and educators, and budget-conscious studios. No longer is there a compromise between quality and cost.
The microMattebox offers a flexible solution for managing light and controlling flare, allowing you to configure your eyebrows/flags and filter stages to exactly meet your needs. The microMattebox is a universal matte box and works with video cameras, 35mm lens adapters, and film cameras. The microMattebox is also compatible with the Red One.
Redrock microMattebox Features
Universal mattebox: Works with video cameras, 35mm lens adapters, and motion picture film cameras.
Wide-screen format shade
Flattened shade design for wide angle lenses
Interchangeable mattes
Swing-away design - a first for this price range
Industry standard rod support: 15mm lightweight, or combination 19mm/15mm studio offset rod support arms
Separate locking knobs for filter position and filter rotation
Metal filter trays with spring-loaded filter locks
Support for top and bottom eyebrows (french flags)
Support for side wings
All filter stages rotate 360 degrees and support up to 5.65" square filter trays
Dual purpose filter tray for 4x4" and 4x5.65" filters. Additional tray options will be available to support up to 5.65" square filters
Unique stackable stage design: add or remove stages to exactly meet your configuration needs
All metal construction (lens shade and lens adapter high impact ABS)
Adaptable to various lens sizes (lens opening with lens connector 140mm, without 155mm)
Compatible with Arri filter trays and arri bellows (with arri bellows adapter)
Please note the microMatteBox does not come with support rods or baseplate. these are available separately from Redrock, or can be used with industry standard 15mm lightweight or 19mm rod systems.
Redrock microMattebox Benefits
Provides unparalleled management of light and controlling of flare
Swing-away provides easy access to lenses for changes and cleaning
Can be configured to meet just about any need, including flags and filter stages
Works with industry standard support and filter sizes and therefore your existing gear
High quality design withstands rigors of a production environment
Notes
This Bundle does not include hardware for flags as shown in picture. Flag hardware is included in the flag kit or the microMatteBox Deluxe Bundle.
This microMatteBox Bundle requires 15mm lightweight support system for attaching to your system.
Filters are not included, but are offered as an add-on accessory.
The microMatteBox comes with your choice of accent colors in Redrock blue, black, or red
What's in the box;
Wide-Angle Shade *16:9 Interchangeable Matte
2 x Rotating Filter Stages
2 x microMatteBox 4x4" / 4x5.65" Dual Size Filter Tray
Lightweight Support Arm 15mm
Donut Kit for microMatteBox
Video Tutorials for Matte Box Configuration and Use
1 Year Warranty
Reviews
(no ratings yet)
Own or use this product?
Give it a quick rating:
Thanks for your rating!
Share your thoughts with other customers:
Write a review
Product:

Redrock Micro Mattebox (Standard bundle)

Manufacturer:

Model:

8-003-0042 standard

SKU:

8-003-0042

RM Product #:

134

Colour:

Blue Accent