TC Electronic BodyRez Acoustic Pickup Enhancer Pedal
Product #35847 | SKU 960819005
(no ratings yet)
Thanks for your rating!
---
---
TC Electronic BodyRez Acoustic Pickup Enhancer Pedal
Product #35847 | SKU 960819005

---
---
Product Features
Enhances Acoustic Guitar Tone on Stage
Simple One-Knob Interface
Phase Control Mitigates Low-End Problems
Built-In Feedback Suppression
On-Board Muting Capabilities
Customer Reviews
(no ratings yet)
Thanks for your rating!
Product Details
Product: #35847
SKU: 960819005
---
Buy Together & Save!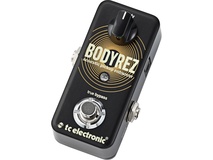 TC Electronic BodyRez Acoustic Pickup Enhancer Pedal
---
Overview
Intended to restore natural resonance when used in conjunction with an undersaddle piezo pickup on acoustic guitar, the BodyRez by TC Electronic is a simple, yet powerful single-knob pedal. The one provided "Body" knob allows you to add a combination of subtle compression and pre-configured filters, all toward the goal of restoring natural, resonant, and full-bodied acoustic guitar tone on stage when dealing with often unfriendly PA systems. The BodyRez also works effectively when used with acoustic soundboard transducers and soundhole pickups.
But there's more to this pedal than its one control knob suggests: holding down the knob, you can mute your signal, making plugging and unplugging your guitar a silent endeavour—a welcome experience for both the crowd and the front-of-house engineer behind the board. Also, using a combination of unplugging the unit and holding down its footswitch, you can engage Phase Control mode and flip the phase of your signal with the tap of your foot, thus eliminating low-end feedback, or indeed, any unwanted low end in conjunction with other signals bouncing around the stage. Furthermore, a mini-USB port allows you to perform any firmware updates that might come down the pike.
Specifications
Control Knob
BODY
Footswitch
Controls on/off, mute, phase reversal
Bypass
True Bypass
Input/Output Connections
Input: 1x 1/4" jack - mono/TS
Output: 1x 1/4" jack - mono/TS
Impedance
Input: 1 MOhm
Output: 100 Ohms
USB Port
Mini-USB for software updates
Power Input
9 VDC, centre negative >100 mA (power supply included)
Dimensions (W x D x H)
48 x 48 x 93 mm