Telestream Flip4Mac Player Pro

Product #51085
SKU F4M-PLAYER-PRO


(no ratings yet)

Thanks for your rating!
Electronic Download
Emailed within 1-3 Business Days
---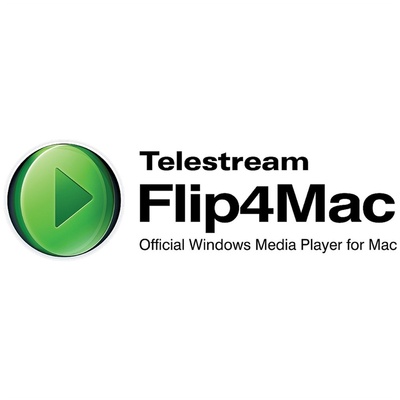 ---
Telestream Flip4Mac Player Pro
Product #51085 | SKU F4M-PLAYER-PRO
|

(no ratings yet)

Thanks for your rating!
Electronic Download
Emailed within 1-3 Business Days
---
Product Features
Enables Windows Media Playback On a Mac
Import, Edit, and Convert WMV Files
QuickTime & QuickTime-Based Playback
Retina Display Support
Flip Player Pro Multiformat Media Player
---
Email me when stock arrives
Flip4Mac Player Pro from Telestream is an upgrade from the free Flip4Mac Player, offering expanded features in Flip4Mac and Flip Player which allow you to play, import, and convert Windows Media video and audio files on your Mac. Flip4Mac components are easy to instal and are officially supported by Microsoft.
Flip4Mac can be accessed through your System Preferences, letting you play Windows Media files in your Mac's native QuickTime Player, Telestream's Flip Player, and even in the OS X file preview feature. It enables Windows Media content to be player in your Safari, Firefox, or Chrome brower, as well as other applications that support QuickTime, including Keynote and PowerPoint.
Your Flip4Mac Player Pro also licence unlocks advanced editing features in Telestream's free multi-format Flip Player, letting you edit your Windows Media videos and convert them to different formats for sending to iTunes or editing software.
Key Features
QuickTime Integration
Flip4Mac Player Pro lets you import WMV and WMA files for playback in QuickTime and QuickTime-based applications, and it features Retina display support.
Flip Player Pro
Flip Player is a free multiformat media player. Your Player Pro licence turns Telestream's free Flip Player into Flip Player Pro. The Pro version unlocks advanced editing features such as scale, rotate, crop, and trim. It enables you to convert your Windows Media movies to variety of different formats, allowing you to import them into iTunes to watch them on your iPhone, iPod, iPad, or Apple TV. You can also convert Windows Media videos for use in editing software such as iMovie, Fincal Cut Pro, Adobe Premiere Pro, and Avid.
Web Browser Integration
Watch and listen to Windows Media streams directly in Safari, Firefox, and Chrome web browsers.
PowerPoint and Keynote Integration
Flip4Mac enables Microsoft PowerPoint and Apple Keynote to access and play Windows Media files through Flip4Mac. Windows Media files can also be imported into PowerPoint and Keynote and saved as PowerPoint presentations so they can be viewed on a Windows PC.
OS X File Preview
Flip4Mac integrates Windows Media with the OS X file system to let you preview Windows Media files in the Finder or with Quick Look, and to browse them with Cover Flow and column view mode.
Mail Preview
Watch Windows Media files directly within Apple Mail emails or in Apple Mail's built-in Quick Look preview.
iMovie Import
Importing WMV files straight into Apple iMovie '11. Just select your WMV files when importing into iMovie, or use Flip Player to convert WMV files to iMovie files using the optimised Apple Intermediate Codec (AIC).
System Requirements
Intel-based Mac
OS X 10.7 or later
Supported Video Codecs
Play / Import:
Windows Media Video 9 Advanced (WMVA) - Broadcast Profile
Windows Video Codec 1 (WVC1)
Windows Media Video 9 Standard (WMV3)
Windows Media Video 8 (WMV2)
Windows Media Video 7 (WMV1)
ISO MPEG-4 V1.1 (M4S2)
ISO MPEG-4 V1.0 (MP4S)
Microsoft MPEG-4 V3 (MP43)
Microsoft MPEG-4 V2 (MP42)
Microsoft Motion JPEG (MJPG)
Supported Audio Codecs
Play / Import:
Windows Media Audio 9 Professional
Windows Media Audio 9 Lossless
Windows Media Audio 9 Standard
Windows Media Audio 7/8
Microsoft G.726
Microsoft IMA ADPCM
Microsoft ADPCM
File Formats
Play / Import:
Advanced Systems Format (ASF)
Advanced Stream Redirector (ASX)
Audio/Video Interleaved (AVI) - WMV media wrapped in AVI file format
Network Stream Protocols
Microsoft Media Server (MMS stream type):
MMS, HTTP, RTSP, and TCP protocols

HTTP Live Streaming (HLS stream type):
HTTP and TCP protocols
Reviews
(no ratings yet)
Own or use this product?
Give it a quick rating:
Thanks for your rating!
Share your thoughts with other customers:
Write a review
Product:

Telestream Flip4Mac Player Pro

Manufacturer:

Model:

F4M-PLAYER-PRO

SKU:

F4M-PLAYER-PRO

RM Product #:

51085