Korg Volca Nubass Vacuum Tube Synthesiser with 16-Step Sequencer
Product #70748 | SKU KOR-VOLCA-NUBASS
(no ratings yet)
Thanks for your rating!
---
---
Korg Volca Nubass Vacuum Tube Synthesiser with 16-Step Sequencer
Product #70748 | SKU KOR-VOLCA-NUBASS

---
---
Product Features
Vacuum Tube Oscillator Circuit.
Nutube with Two Triodes.
Transistor Ladder Low-Pass Filter.
Analogue Driver Circuit.
Built-In 16-Step Sequencer.
Customer Reviews
(no ratings yet)
Thanks for your rating!
Product Details
Product: #70748
SKU: KOR-VOLCA-NUBASS
---
Buy Together & Save!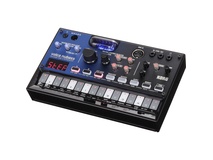 Korg Volca Nubass Vacuum Tube Synthesiser with 16-Step Sequencer
---
Overview
The Korg Volca Nubass Vacuum Tube Synthesiser with 16-Step Sequencer features a sound source based around a vacuum tube oscillator and a classic ladder filter, well suited for producers and performers looking for warm harmonics and huge distortion produced by analogue vacuum tubes for the ultimate bass machine.
The Nutube contains two independent triodes; one is used in the oscillator to generate a sawtooth wave or square wave. The other triode is used in the drive circuit of the sub oscillator, adding depth and warmth one octave below the oscillator. The low-pass filter is remarkably dynamic in the way it affects a sound more than just ranging from bright-to-dark. Its wide range of timbral possibilities makes it ideal for a broad variety of electronic music, including the distinctive modulation that can be heard in acid house and techno. The driver circuit uses an analogue circuit reminiscent of a classic stompbox, which introduces compression and mild distortion to create a thickness to your bass sound, while the tone knob adds crispiness to the high-frequency range.
The synthesiser can be controlled with its multitouch keyboard or the built-in 16-step sequencer with slide, accent, and transpose functions. The sequencer has 16 memory patches for storing your settings and an Active Step function that can remove or insert steps to help create new bass lines. The unit can receive MIDI from an external controller or DAW via its 5-pin DIN connector. Multiple units from the Volca line can be clock synced with the 1/8" Sync In and Out connectors. The Korg Volca Nubass includes a sync cable and can be powered by the included six AA batteries or with the optional KA-350 AC adapter.
Key Features:
Music Software Bundle
Apps for iPad/iPhone

KORG Gadget Le (music production studio DAW app)
KORG Module Le (piano/keyboard sound module app)

Software for Mac/Windows

KORG Collection - M1 Le (synthesiser sound module)
UVI Digital Synsations (synthesiser sound module)
AAS Ultra Analogue Session (synthesiser sound module)
AAS Strum Session (acoustic guitar sound module)
AAS Lounge Lizard Session (electric piano sound module)
Propellerhead Reason Lite (DAW music production software)
Skoove free 3 month trial of Skoove Premium (online piano lesson)
KORG Gadget Le for Mac (DAW music production software)
iZOTOPE Ozone Elements (Audio Mastering Plug-in Software)
Specifications
Keyboard
Multitouch Keyboard with Step Key
Synthesiser Type
Analogue
Polyphony
1
Structure
1 x VTO (Vacuum Tube Oscillator, Sub-Oscillator)
1 x VCF
1 x VCA
1 x EG
1 x LFO
1 x Overdrive
VCO
VTO: Wave (Saw, Square), Pitch
Sub Oscillator: Saturation, Level
VCF
Cutoff, Peak, EG Intensity
VCA
EG On/Off
Sustain On/Off
LFO
Rate, Intensity, Target (Amp, Pitch, Cutoff), Wave (Triangle, Square), LFO Sync
EG
Attack, Decay/Release, Sustain
Sequencer
Number of Parts: 1
Number of Steps: 16
Number of Recording Patterns: 16
Connectors
1 x 1/8" / 3.5 mm Stereo Mini Jack Headphone Output
1 x 1/8" / 3.5 mm Mono Mini Jack Sync In
1 x 1/8" / 3.5 mm Mono Mini Jack Sync Out
1 x 5-Pin DIN MIDI In
Power Supply
6 x AA Alkaline or Nickel-Metal Hydride Batteries
Optional KA-350 Adapter
Battery Life
Approximately 8 Hours (with Alkaline Batteries)
Dimensions (W x D x H)
7.6 x 4.5 x 1.8" / 193 x 115 x 46 mm
Weight
0.82 lb / 370 g (Excluding Batteries)